.innamissions., hosted by J.Pulaski , is a weekly radio program aired on KUCI 88.9fm and based out of UC Irvine, California. Show features a wide array of music revolving around funk, soul, jazz, hip hop, reggae, world beat and periodic guest mixes. Tune in every week on the internet (www.kuci.org) and in the Orange County area at 88.9fm on your dial.
Innamissions playlist for 8-22-2016
A handful of some favorite Bobby Hutcherson vibes to start us off tonight followed by plenty of jazz, soul, funk, rock and groove throughout.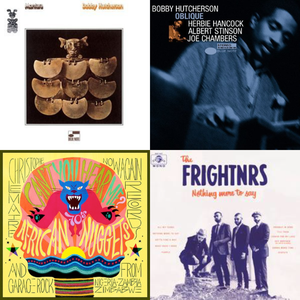 | Artist | Title | Album | Label |
| --- | --- | --- | --- |
| duke pearson | the phantom | the phantom | blue note |
| bobby hutcherson | oblique | oblique | blue note |
| bobby hutcherson | maiden voyage | happenings | blue note |
| bobby hutcherson & harold land | ummh | san francisco | blue note |
| bobby hutcherson | montara | montara | blue note |
| alan lee | the world is a ghetto | an australian jazz anthology | jazzman |
| jimmy mcgriff | blue juice | the worm | blue note |
| the fiction trio | what is life | v/a: impossible ark | tru thoughts |
| dj day | land of 1000 chances | land of 1000 chances | piecelock70 |
| chrome glaciers | one thirty three | allo love: vol 6 | wah wah 45's |
| stompy's playground / slugabed | sex | stompy's playground e.p. | stompy's playground |
| stompy's playground / lusine | two dots | stompy's playground (live) | stompy's playground |
| quiroga | got your love | really swing sampler august 2016 | really swing |
| badbadnotgood | timewave zero | here & now | innovative leisure |
| hollie cook | and the beat goes on dub | prince fatty presents hollie cook in dub | mr. bongo |
| the frightnrs | nothing more to say | nothing more to say | daptone |
| the wailers | caution | songs of freedom | tuff gong / island |
| sound dimension | rockfort rock | downbeat the ruler | |
| born free | mad man | christophe lemaire presents "can't you hear me?" | now again |
| 5 revolutions | i had a dream (instrumental) | christophe lemaire presents "can't you hear me?" | now again |
| jimmy caravan | look into the flower | look into the flower | tower |
| the funkees | break through | christophe lemaire presents "can't you hear me?" | now again |
| wells fargo | coming home | christophe lemaire presents "can't you hear me?" | now again |
| monophonics | i'd be nowhere today | i'd be nowhere today | monophonics |
| lee moses | time and place (album version) | time and place | light in the attic |