.innamissions., hosted by J.Pulaski , is a weekly radio program aired on KUCI 88.9fm and based out of UC Irvine, California. Show features a wide array of music revolving around funk, soul, jazz, hip hop, reggae, world beat and periodic guest mixes. Tune in every week on the internet (www.kuci.org) and in the Orange County area at 88.9fm on your dial.
Innamissions playlist for 9-26-2022
New music this week from Skalpel, Teebs, Citron Citron, Residentes Balearicos, Glenn Astro, Tiger Balm, Floating Points, Elkka plus some Pharoah Sanders to start and end the program in honor of his passing.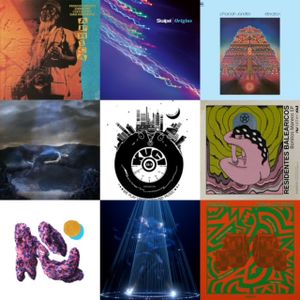 | Artist | Title | Album | Label |
| --- | --- | --- | --- |
| pharoah sanders | greeting to saud (brother mccoy tyner) | elevation | impulse |
| caterina barbieri | at your gamut | spirit exit | light years |
| li yilei | chu | of | metron |
| dohnavur | the kindness of others | the flow across borders | castles in space |
| skalpel | momentum | origins | nopaper |
| citron citron | le nuit galope | le nuit galope | bongo joe |
| cos | mein maschine ist schon | mein maschine ist schon | finders keepers |
| aleksi perala | f13ac2274060 | unity III | ap musik |
| teebs | nes | did it again / nes | brainfeeder |
| pie eye collective | land of wood and water | land of wood and water | albert's favourites |
| residentes balearicos | mare di inverno | bonitos mareos e.p. | nu northern soul |
| residentes balearicos | que bonito | bonitos mareos e.p. | nu northern soul |
| boogie belgique | mercury | machine | le plan |
| tigerbalm & joy tyson | kete | kete | ubiquity |
| glenn astro | hydro city zone (act 1) | zonin' | tartelet |
| the jaffa kid | tropet | passing signals | suction |
| tim reaper & kloke | museum | museum / flow state | !k7 |
| floating points | problems | problems | ninja tune |
| jamie xx | loud places (special request remix) | loud places | young turks |
| elkka | i just want to love you | i just want to love you | ninja tune |
| khruangbin & vieux farka toure | mahine me | ali | dead oceans |
| cos-ber-zam | ne noya (daphni mix) | jiaolong | jiaolong |
| le orme | ad gloriam | ad gloriam | car juke box |
| albert ayler | heart love | new grass | impulse |
| pharoah sanders | you've got to have freedom | africa | timeless |