.innamissions., hosted by J.Pulaski , is a weekly radio program aired on KUCI 88.9fm and based out of UC Irvine, California. Show features a wide array of music revolving around funk, soul, jazz, hip hop, reggae, world beat and periodic guest mixes. Tune in every week on the internet (www.kuci.org) and in the Orange County area at 88.9fm on your dial.
Innamissions playlist for 1-13-2020
Dub, bass, beats and more in hour 1. Soul, disco, jazz and more in hour 2. New from Natureboy Flako, Novelist, El Michels Affair, Sumgii, The Sorcerers, Oscar Weathers and more.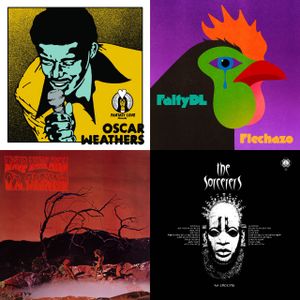 | Artist | Title | Album | Label |
| --- | --- | --- | --- |
| ulrich troyer | at muff's place | songs for william 3 | 4bit productions |
| d-operation drop | natty coil | natty coil / ghori | scrub a dub |
| terror danjah | nightmare | invasion | tru thoughts |
| novelist | active | active | novelist |
| baytrilla | i feel | swamp81 | swamp81 |
| sumgii | chunks | who is genre anyway e.p. | 81 |
| natureboy flako | andar y volar | andar y volar | record jet |
| jonny faith | ascending | night lights e.p. | heard and felt |
| gaijin blues | the mining town of kakariko | gaijin blues II | shapes of rhythm |
| el michels affair | 12345678910 | 12345678910 | big crown |
| c.a. quintet | trip thru hell pt. 1 | trip thru hell | sundazed |
| stefano torossi | fearing much | feelings | easy tempo |
| the yorkshire film and television orchestra | the anderson spectrum | in pursuit of shai hulud | ata records |
| the sorcerers | summoning the monkey god (45 edit) | summoning the monkey god | ata records |
| william onyeabor | why go to war (edit) | who is william onyeabor? | luaka bop |
| jean-pierre decerf | like the wind you are | v/a: cosmic future groove vol.2 | show up |
| oscar weathers | we're running out of time | we're running out of time / countdown | fantasy love |
| uneda dennard | fantasy ride | fantasy ride | numero group |
| ted taylor | ghetto disco | v/a: andy smith presents reach up - disco wonderland 2 | bbe |
| nu guinea | open paths | the tony allen experiments | comet |
| falty dl | flechazo | flechazo | studio barnhus |
| jeigo | pearl leaf | mryn / jeigo | valby rotary |
| ltj bukem | delitfol | producer 05 | good looking |
| caribou | you and i | suddenly | city slang |