.innamissions., hosted by J.Pulaski , is a weekly radio program aired on KUCI 88.9fm and based out of UC Irvine, California. Show features a wide array of music revolving around funk, soul, jazz, hip hop, reggae, world beat and periodic guest mixes. Tune in every week on the internet (www.kuci.org) and in the Orange County area at 88.9fm on your dial.
Innamissions playlist for 8-14-2017
Soul, jazz, disco and funk in first hour moving into more uptempo business in the second hour. New music from Record Breakin Ensemble, James L'Estraunge Orchestra, Tricky, Waajeed, Bicep and Washed Out.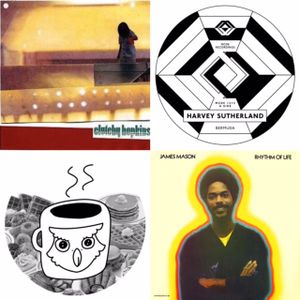 | Artist | Title | Album | Label |
| --- | --- | --- | --- |
| tricky | the only way | the only way | ununiform |
| steve parks | still thinking of you | sadness in my samba / still thinking of you | dopebrother |
| clutchy hopkins | 3:07 | the life of clutchy hopkins | crate digler |
| claudia | jesus christo | mr. bongo record club vol. 1 | mr. bongo |
| the brothers and sisters | all along the watchtower | dylan's gospel | light in the attic |
| elbernita "twinkie" clark | awake o zion | awake o zion | athens of the north |
| family of eve | i wanna be loved by you (kenny dope edit) | i wanna be loved by you | kay dee |
| james mason | sweet power your embrace | rhythm of life | soul brother |
| the james l'estraunge orchestra | groovin you | closer / groovin you | bbe |
| mabu's madness | in your day | m square | maple |
| darondo | let my people go | let my people go | luv n haight |
| charles bradley | stay away | stay away | daptone |
| the olympians | apollo's mood | the olympians | daptone |
| paz | iron works | paz are back | bbe |
| romare | all night | love songs part two | ninja tune |
| washed out | get lost | mister mellow | stones throw |
| the black madonna | stay | stay / venus requiem | the nite owl diner |
| harvey sutherland | bermuda | bermuda e.p. | mcde |
| detroit swindle | the break up | break up to make up | heist |
| max graef & andy hart | jungle | broken keyboard e.p. | heist |
| waajeed | shango | shango e.p. | dirt tech wreck |
| record breakin ensemble | batucada (dotmatic's outpatient care mix) | batucada samba vol. 2 | record breakin |
| bicep | glue | glue / aura | ninja tune |
| lord raja | barrel | amadeus e.p. | ghostly |
| kuedo | slow knife | slow knife | planet mu |